The motto of the U.S. Submarine Veterans of WW II is to:
"Perpetuate the memory of those shipmates who gave
their lives in submarine warfare."
In 1995 the San Diego Chapter voted unanimously to create a memorial to the 52 U.S. Navy submarines and the more than 3500 American submariners lost in World War II, and work began with the San Diego Park & Recreation Dept. to find a suitable location. The city suggested the new park that was going to be created on the grounds of the former Naval Training Center San Diego, which had been designated for closure by the Base Realignment and Closure Commission (BRACC).
All military operations ceased at the base in 1997 and the land was reconveyed to the City of San Diego.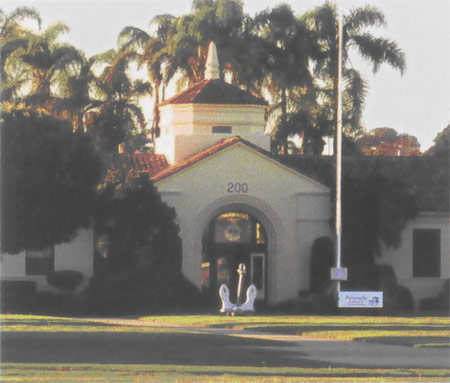 The City of San Diego developed a master plan for the use of the 328 acre site that includes the restoration and preservation of many of the historic buildings. It also includes a new 40 acre City Park on the waterfront that will be one of the crown jewels of the City park system.
Already being referred to as "Balboa by the Bay," in reference to San Diego's world famous Balboa Park, the new park at Liberty Station will have athletic facilities including a swimming pool complex, picnic areas, hiking trails, a nature preserve, and a central plaza the size of three football fields designed around the 52 Boats Memorial.
The design of the memorial includes a planting of 52 American Liberty Elm trees, one for each of the lost boats. The trees will line broad sidewalks that flank the plaza on two sides leading down to the waters edge. In front of each tree will be a black granite monument laser etched with the name and picture of one of the lost boats, the circumstances of the boat's loss and the names of all the men who were lost with the boat.

Launched
23 November 1941

Lost
November 1944
USS GROWLER (SS-215)
CDR T.B. Oakley, Jr. USN, COMMANDING OFFICER
Growler's famous career began in June 1942 with the sinking of one destroyer and the damaging of two others in Aleutian waters. Her second patrol was off Formosa, where she succeeded in sinking five enemy vessels. It was Growlers fourth patrol, however, that set the stage for one of the most legendary acts of heroism in the history of naval warfare. Growler had rammed an enemy patrol vessel, which then opened fire on her, killing two of the crewmen on deck. Commander Howard W. Gilmore, lying wounded on the bridge, saw that Growlers only hope for survival was to submerge immediately. Knowing that he would not have time to get below deck, he nonetheless gave the courageous and fateful command "Take her down!" As Growler dove to safety, Commander Gilmore was swept away. He was posthumously awarded the Congressional Medal of Honor for this selfless act. Growler returned to battle with a vengance, wreaking havoc on Japanese shipping throughout the Pacific. In October of 1944, Growler set out on her eleventh war patrol, forming a wolf pack with two other submarines. On 8 November this search-and-attack group fired on an enemy convoy in the Sulu Sea. When the depth charging ceased, and the remnants of the enemy convoy passed, Growler had disappeared forever. She took with her 85 courageous men.
On Eternal Patrol
ABEL, J.H.
ARCHER, H.W.
BAKER, H.C.
BEATTY, T.M.
BERGFIELD, W.V.
BLACKSTONE, N.H.
BOOKER, W.D.
BOONE, C.R.
BRIDGE, R.S.
CARR, W.K.
CHAMBLIN, R.L., Jr.
CLARK, L.C.
CLEVELAND, B.
DALLMAN, G.B.
DARBY, J.A.
DOUGHTREY, G.P.
DAWSON, F.E.
DURAND, A.L., Jr.
ERIKSON, R.D.
FERRARIO, A.
FLIPPENS, W.
TM1
EM2
S1
GM3
EM1
S2
TM2
CMOMM
RM2
ENS
QM2
MOMM3
STM3
F1
MOMM1
FC2
EM1
F1
F1
CMOMM
STM2
FREDMAN, C.E., Jr.
FREYER, A.J.
GEORGE, H.A.
GILMORE, H.W.
GREGORY, W.M.
HAKANSON, R.E.
HARRIS, R.
HEALD, H.F.
HEDRICK, W.E.
HICKEY, W.C., Jr.
HOPE, R.E.
JACOBS, A.M.
JEWETT, G.W.
JOHNSON, L.S.
KACZMAREK, H.A.
KUBA, D.J.
LADERMAN, R.S.
LANE, R.E., Jr.
LEVIELLE, M.P.
LORIO, E.P.
LYNCH, G.
MOMM1
EM2
F1
CDR
LTJG
TM2
TM3
S1
SC3
MOMM2
TM2
EM3
LTJG
LTJG
Y3
MOMM1
RT2
RM1
MM1
S1
S1
MADDUX, J.H.
MANESS, L.B.
MANNING, W.S.
MASON, R.K., Jr.
McLAUGHLIN, J.J.
McMULLIN, L.R.
MELANCON, C.M.
METZLER, A.
MILLER, D.C.
MINKLE, A.J.
MORRISON, W.
NATOV, B.
NAYLOR, N.W.
NIXON, C.F.
OAKLEY, T.B., Jr.
ORTH, L.
OWEN, A.D.
PADILLA, J.
PARUS, H.R., Jr.
PICARD, R.J.
POST, E.W.
RATNECHT, C.H.
TM1
CEM
MOMM2
LT
QM3
TM2
MOMM2
FC3
GM3
F1
EM2
RT2
LT
F1
CDR
SC1
RM2
S2
S2
MOMM3
TM3
MOMM3
READ, E.P.
RHODES, H.E.
ROTHENBERGER, E.W.
SCHULZ, K.G.
SEBESTYEN, P., Jr.
SHAY, C.O.
SIMMONS, D.G.
SMITH, W.D.
SMITH, W.L.
STEVANOVICH, N.L.
STOINER, S.L.
STUBBLEFIELD, J.W.
SUBA, C.F.
TANNER, J.A.
THIGPEN, D.T.
THOMAS, F.P.
TULLIER, R.B.
VAIL, P.F.
VECERE, R.
WELCH, R.D., Jr.
WETERINGS, R.L.
WORKMAN, C.A.
CMOMM
S1
RM3
Y2
TM3
S1
RT2
LTJG
CTM
QM3
S1
CMOMM
S1
MOMM2
F1
LT
F1
EM2
EM3
EM2
S1
MOMM3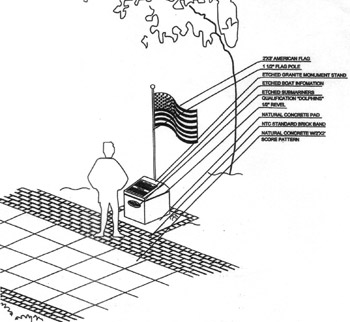 A provision will be made to fly a flag at each monument on the anniversary of the boat's loss. On national holidays and other special events, all 52 flags will be flown. Other manuments and trees will honor submariners lost in World War II on boats that survived the war, and submarines lost at times other than World War II.